The VO POV: thoughts from the booth - who's it for?
Who should read these articles? Less experienced directors, scriptwriters, account managers – especially anyone relatively new to hiring and working with a professional voiceover artist – will profit most, but who doesn't benefit from seeing their world from a different point of view?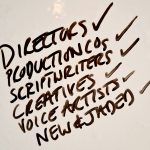 Because even experts gain from the insights of others. With almost 20 years' of copywriting and scriptwriting experience, and more than a decade behind the mic, I'm far from green – but there's so much more to learn, to reflect upon, to absorb.
Perhaps there's something here that you haven't considered before.
Browse the articles below and, please, feel free to get in touch with your own POV!