Looking for an English male voiceover artist?
My name is Anthony Hewson. I'm an English male voiceover artist and voice actor, born, raised and now recording professional voiceovers in Hertfordshire, in the southeast of England.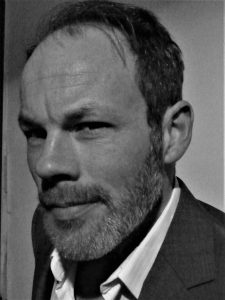 Acting was always a passion. Back in school I studied for LAMDA exams; sang, acted and gave readings for various productions; and toured mainland Europe with lead roles in Romeo & Juliet and A Man For All Seasons. At uni, I relished playing the monstrous Martin in Brimstone & Treacle. Then the reality of paying bills as an actual grown-up struck, and I turned to my other natural bent: writing. After working in corporate communications and PR, I moved into freelance copywriting and editing. Which I still do today.
The acting went away. But people certainly seemed to like my voice. I had embarrassing compliments from total strangers. I gained a non-threatening stalker. A chap I'd never met before said he'd like me to read him bedtime stories. I was asked to record voice of god voiceover and telephone messages for employers. As I read out some ad copy at a client workshop with around 20-odd women, the leader declared that I'd have 'a great voice for radio'. Some wag responded: 'a great face for radio…' There was much laughter. There was a red face. Which is ok, if it's on the radio.
After some years of brushing off the 'you should do voiceovers' comments (and with the witticisms of others keeping me firmly grounded), followed by a handful of corporate voiceovers requested ad hoc by creative agency clients of my copywriting business, I invested in further training and a decent home studio set-up.
So now I'm a voiceover artist for hire, too. You can listen to some samples here and, if my voice is right, book me for your next project.